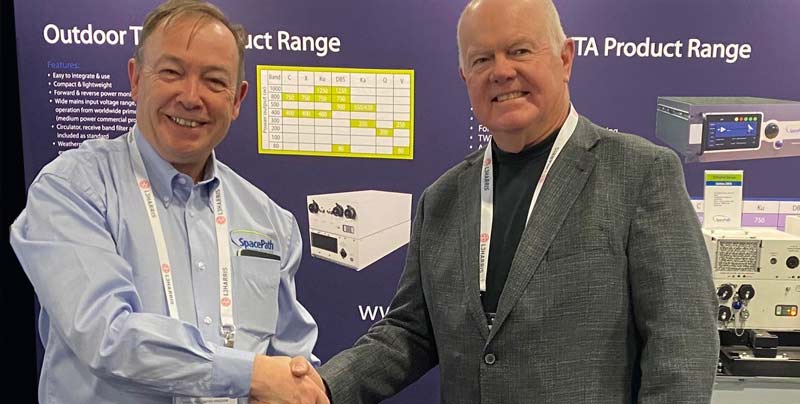 Partnership to provide pre- and post-sales support for SpacePath's range of satellite ground-based amplifiers and sub-systems across North America
SpacePath Communications ('SpacePath'), a dedicated, European-based SATCOM amplifier manufacturer and equipment supplier, has entered into a strategic agreement with Applied Systems Engineering, Inc. (www.applsys.com) (ASEI), a Fort Worth, Texas-based company specialising in the design and manufacture of high-power RF travelling wave tube amplifiers, klystron amplifiers, and magnetron transmitters for radar, threat, weather, instrumentation, and other applications. 
Based at its US facility, ASEI's factory-trained team of technicians and engineers will enable SpacePath's customers to benefit from best-in-class levels of service and technical support. The agreement will provide full pre- and post-sales support for SpacePath's comprehensive range of SATCOM amplifiers and sub-systems deployed throughout the satellite ground station sector in North America. 
Commenting on the agreement, director and co-founder, Colin Bolton, SpacePath Communications, said: "Our relationship with Applied Systems Engineering is a very comfortable fit as they have a long and successful background in the design, manufacture and support of high-power amplifiers. By applying their considerable experience to SpacePath's products across the North American SATCOM market, our existing and prospective customers will benefit from their practical expertise in pre-sales advice, service, maintenance and technical support."
Ken Reed, president, and chief engineer at ASEI added: "At Applied Systems Engineering we are truly privileged and honoured to serve and support our customers before, during, and after the sale. I am excited to enter this strategic relationship with SpacePath Communications and agree that this is a comfortable fit for us all." 
Patrick Swan, executive director, business development, ASEI, also added: "SpacePath's experience and expertise in satellite, ground-based amplifiers and sub-systems is an exciting opportunity to expand our involvement in the high-power RF ground station community. SpacePath and ASEI are well aligned and combined through scale, talent, and resources we, collectively, will be in the incredible position to better serve and support our valued clients for years to come."
SpacePath's high performance uplink amplifiers cover all mission-critical segments including satellite newsgathering (DSNG), flyaway or truck-based systems, fixed-earth stations and military satellite communications.
Share this post