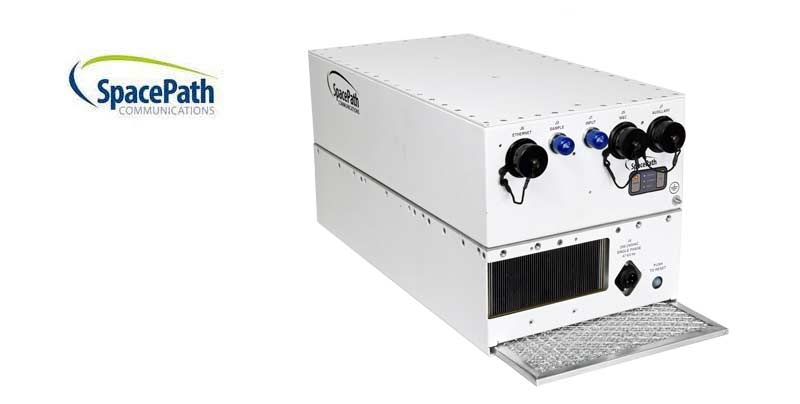 Customer-Driven Innovations to Feature in Expanded SATCOM Amplifier Line-Up
SpacePath Communications ('SpacePath') a dedicated, European-based SATCOM amplifier manufacturer and equipment supplier, is exhibiting a new line-up of its popular high power SATCOM amplifiers and sub-systems at CommunicAsia 2022.
SpacePath's amplifier range now includes its 650W Ka-band amplifier with a unique carbon-cooling structure. The innovative cooling design features comparable thermal performance to copper but is only half the weight, contributing to the amplifier's smaller form factor, low weight and high efficiency.
Continuing the company's focus on customer-driven features, the redundancy systems incorporate SpacePath's new Tilt and Slide® mechanism. The rack design adds convenience and simplicity by enabling each amplifier to be installed and supported by a single person without any specialist tools.
CommunicAsia 2022 also marks the completion of another contract to a major Asian satellite customer who will be deploying SpacePath's 650W Ka-band outdoor redundant system, including tri-band Ka-band block-up converters (BUCs) covering the entire 27.5-31.0GHz band.
Colin Bolton, director of business development, said: "Our credentials in customer-led amplifier design are one of the reasons we have become a provider of choice among system vendors in the global SATCOM market. Our carbon-cooling design is a further example where our innovations are meeting real-world requirements for amplifiers that are smaller and lighter than most other competitive products."
SpacePath's high performance uplink amplifiers cover all mission-critical segments including satellite newsgathering (DSNG), flyaway or truck-based systems, fixed-earth stations and military satellite communications.
The company will be exhibiting at CommunicAsia in the UK Pavilion, booth 5K1-13.
Share this post