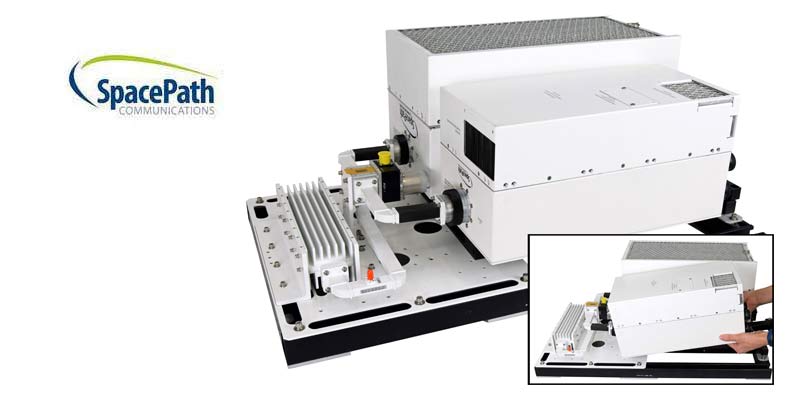 SpacePath's modular framework simplifies amplifier system installation and maintenance
16 February, 2022 – SpacePath Communications ('SpacePath') a dedicated, European-based SATCOM amplifier manufacturer and equipment supplier, has introduced a range of redundant and power combined universal amplifier subsystems, incorporating an innovative modular framework that simplifies installation and maintenance operations.
SpacePath's redundant 1:1 and 1:2 amplifier subsystems feature a universal, modular framework with quick-release amplifier mounting and waveguide connectors. By simplifying system set-up processes and ongoing maintenance, especially with amplifier installation or replacement in confined spaces, the modular design can reduce both downtime and operational costs.
Developed by SpacePath, the unique modular framework and Tilt & Slide® mechanism enables each amplifier to be quickly installed, locked into place and connected using the quick-release waveguide coupling. All models of the company's STA4000/5000 and 6000 series amplifiers, within a single operating band, can be accommodated in the same system. The 'one-size-fits-all' design can reduce overall cost of ownership by adding maximum flexibility, especially when upgrading. Systems are available in all powers and frequencies including: C-, X-, Ku-, DBS-, Ka- & Q/V-bands.
Adding both ease of use and resiliency to SpacePath's portfolio of compact, lightweight power amplifier system solutions, the new product range accommodates redundancy, power combining, polarity switching, and load switching filtering, in any combination.
Colin Bolton, director of business development, said: "Intended to meet real-world transmission needs, we developed our modular sub-systems to provide built-in convenience as standard. The proprietary Tilt & Slide mechanism, in particular, helps reduce costs by simplifying all installation, maintenance and upgrade operations."
SpacePath's high performance uplink amplifiers cover all mission-critical segments including satellite newsgathering (DSNG), flyaway or truck-based systems, fixed-earth stations and military satellite communications.
Share this post