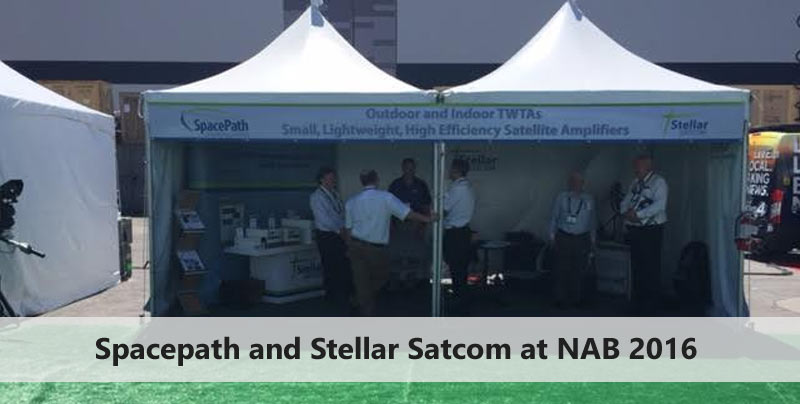 Stellar Satcom to launch indoor touch-screen TWTAs, lightweight outdoor 
amplifiers and market-leading SAT-BUC at 2016 NAB Show
29 March 2016 – Stellar Satcom, a joint venture business formed by Spacepath Communications ('Spacepath'), and Polarity Inc., will be launching an updated product portfolio at the 2016 NAB Show. The new range includes rack-mounted touch-screen travelling wave tube amplifiers (TWTA); Ku- and Ka-band series ultra linear, high efficiency TWTAs and a lightweight SAT-BUC.
Backed by Spacepath, the company behind the Stellar family of high power outdoor amplifiers, and Polarity Inc., Stellar Satcom's combined wealth of industry experience will set the pace in high power satellite uplink performance for the fixed earth station and transportable satellite broadcast uplink markets.
The 2016 NAB Show product line-up will include:
STR Series Rack Mount Touch-Screen TWTA: Indoor rack-mount travelling wave tube amplifiers (TWTA) covering C-, X-, Ku- & DBS-band with an output power of 400, 500 and 750W. The 4U high amplifiers feature a touch-screen TFT front panel to provide an easy-to-use visual interface for monitoring and controlling the amplifier. The panel displays the HPA's operational status, including power output and temperature, graphical displays of parameter trend analysis and event logs. Local and remote diagnostics can also be easily performed via a built-in Ethernet network interface.
Ku-band Satellite Block Upconverter (SAT-BUC): The 150W BUC model is the smallest, lightest and most power efficient in its class. The amplifier is fitted with an L-band input and an auto-sense internal 10MHz source. It is available for immediate shipment in single thread and redundant systems. 
STA1341 Series: A new 400W Ku-band antenna mount, outdoor HPA incorporating a peak power TWT with an integrated lineariser assembly. The STA1341 amplifier offers ultralinear performance in a small, lightweight and power efficient package. It is fitted with Ethernet and web browser capability. The amplifier can be provided in single thread and redundant configuration.
STA 3252 Series: A new 500W Ka-band outdoor TWTA, the lightest amplifier on the market, weighs only 18kg. The amplifier is offered in 27.5-30GHz and 30-31GHz bands and includes Ethernet/web browser and an optional uplink power control. The amplifier can be provided in single thread and redundant configuration.
Steve Ludvik, Director of Business Development, Stellar Satcom, said: "While exhibiting at the NAB Show for the time as a joint venture business, the Stellar range of products has a long-established and loyal following in North American. As Stellar Satcom, we now combine the proven performance of Stellar amplifiers with new product innovation, first-class customer support and a deep understanding of the demanding requirements for customers in this market."
Applications for Stellar Satcom's high performance uplink amplifiers cover all mission-critical segments including satellite newsgathering (DSNG), flyaway or truck-based systems, fixed earth stations and military satellite communications.
About Stellar Satcom
Visit: www.stellarsatcom.com
About Spacepath Communications
Established in 2014, Spacepath Communications (Spacepath) was formed following the acquisition of the Stellar amplifier business from e2v Technologies. The new company is based in Hook and manufactures RF high power amplifiers, redundant system controllers and sub-systems. Based in the UK, it is dedicated to the supply of quality high power satellite amplifiers and provides comprehensive customer services and support globally. 
For further information, visit: www.space-path.com
About Polarity Inc. 
Established in 1999, Polarity, Inc. is a power systems design and manufacturing company based in Rancho Cordova, California. Polarity provides power solutions for microwave amplifiers that utilize TWTs, Klystrons, Magnetrons, and SSPAs. Polarity's TWTAs, HPAs, and SSPAs support a wide range of industries including military, commercial, industrial, and medical applications. Polarity engineers have made market disruptive technology advancements in efficiency, power density, and reliability for all power products.
For further information, visit: www.polarity.net
Media contact
Neville Rawlings - R&B UK Consultancy Ltd. (for Spacepath Communications)
+44 7813 670308
Share this post